Published on 2022-05-23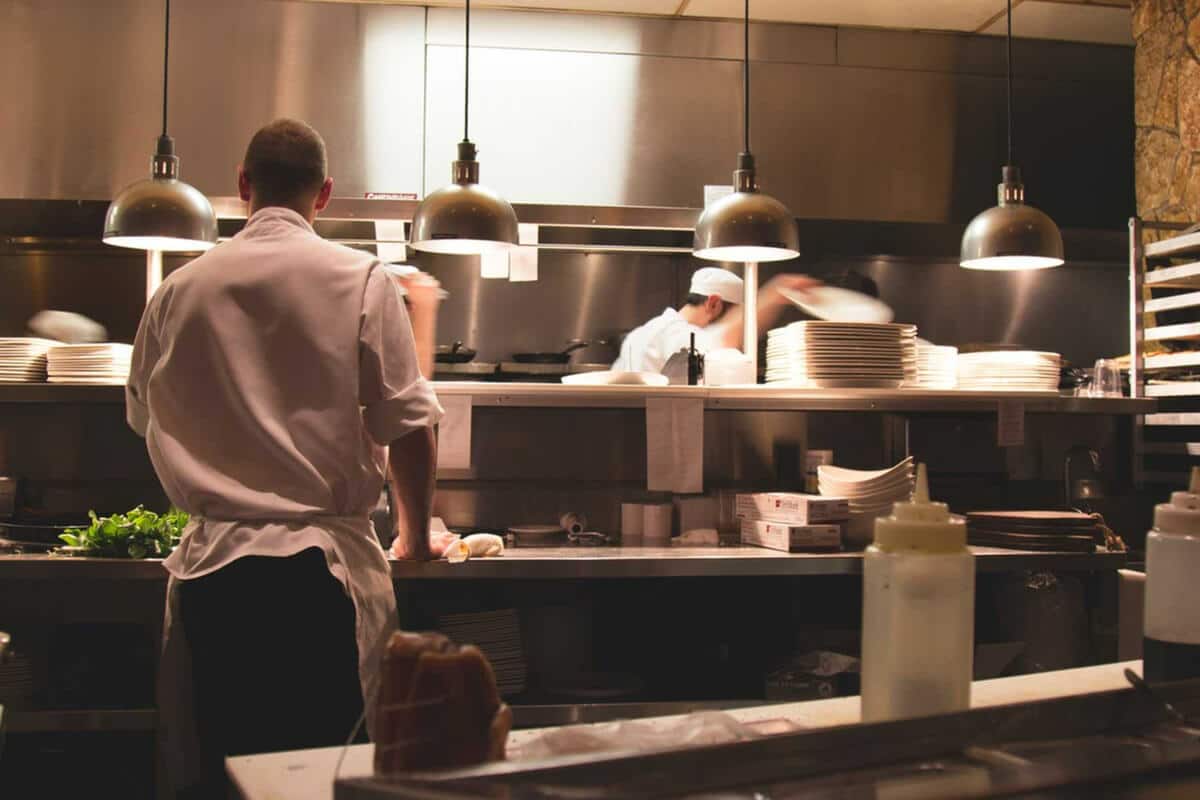 Did you know that 5 million Australians get food poisoning every year, either at home or from dining out? Food storage and temperature are vital for safe eats, but there is another underrated factor: kitchen hygiene.
Having a sparkling clean kitchen won't just bag you high scores on your doors, but will keep the customers rolling in. In many cases, people will pass on a restaurant with a poor score.
You may think you've got all bases covered with your kitchen cleaning routine, but what about your canopy cleaning schedule? Your kitchen canopy is a workhorse in your kitchen, but without proper cleaning and maintenance, you might have to replace it pretty soon.
So, how often should you clean your kitchen exhaust fan, and how do you do it? Here are some expert cleaning hacks to preserve the life of your kitchen canopy.
What Is a Commercial Kitchen Canopy?
A kitchen canopy, or range hood, is the wall-mounted extractor above your commercial cooker. These hoods contain kitchen exhaust fans, which draw up and filter the air as you cook.
The filters in the canopy will cool the air and clean it, trapping grease, and removing steam and smoke. They increase the air quality in your kitchen and help keep the surfaces clean of grease and dirt as well.
Why You Should Clean Your Canopy Regularly
Range hood filters catch grease and grime expertly, but all that muck has to go somewhere. The fact is, without regular canopy maintenance, the grease will start to clog up the filters and overwhelm the canopy. If your drip gutter, which catches excess grease, is full, you'll start to get contaminated grease dripping onto equipment or worse, food.
If the grease from cooking isn't trapped by your range hood, it will travel to other areas of the kitchen, and even clog up other nearby appliances.
But grease and fat buildup are also fire hazards. And the worst-case scenario is to have a kitchen fire that enters the hood and is fueled by its grease-laden ducts and filters.
How Often Should You Service Your Canopy?
Simply put, the larger your operation, the more often you'll need to service your canopy to comply with fire safety standards.
According to Australian Standard AS1851-2012, exhaust systems need to be cleaned and inspected once a year at least. But if you want to optimise safety, more is needed. As our Lotus service guide points out, best practice for commercial cleaning will differ based on the nature, type, and hours of cooking.
As our service guide states, the National Fire Prevention Association (NFPA) outlines the frequency of cleaning as follows:
Systems serving solid fuel cooking operations should be inspected monthly
Systems serving high-volume cooking operations such as wok cooking, charbroiling, or 24-hour cooking should be inspected quarterly
Systems serving moderate-volume cooking operations should be inspected semi-annually
Systems serving low-volume cooking operations, such as seasonal businesses, day camps, churches, or senior centres should be inspected annually
How to Preserve the Lifespan of Your Kitchen Canopy
If you want your kitchen canopy to last for years, then you'll need to inspect, clean, and maintain it regularly. Here are our expert hacks for how to clean range hood filters and keep your canopy sparkling.
1. Do a Visual Inspection Every Night
The easiest way to tell whether your kitchen canopy needs a clean is to do a daily visual check. If you see any grease, grime, or fat deposits, then it's time for a scrub.
The best time to check your range hood is before cooking starts for the day, and when the kitchen closes at the end of the day. This way, you'll make sure you're starting with a clean hood every time.
2. Empty Your Drip Gutter Regularly
The drip gutter in your hood is there to trap grease and moisture before it drips onto equipment or food. If you're a light to medium user, then clean your grease drawers every 5-7 days. For heavy use, you'll need to clean them daily.
3. Wash Your Filters Regularly
Depending on the type of filters you have, you may need to have them specially cleaned by the professionals. Lotus are canopy cleaning experts, and we will safely clean and disinfect your filters so they're like new.
Alternatively, check your owner's manual to see how to clean the filters you have. Some baffle filters, for example, can be run through the dishwasher, but you need to make sure they get properly and thoroughly cleaned.
For light to medium users, wash your baffle filters every 5-7 days. For heavy users, you'll need to put them through a daily wash cycle.
4. Clean Down Your Canopy
Although it may just seem like housing, your canopy attracts grease and debris and will need to be cleaned each week. This minimises any fat pooling and dripping, and lowers contact contamination.
For light to medium users, clean down your canopy every 5-7 days. For heavy users, you'll want to do this every 4 days for a safe and clean canopy.
5. Keep a Log Of All Maintenance
Finally, whatever maintenance you do on your kitchen canopy, make sure you keep an accurate record of it. Include the date, and the maintenance performed. This will help you to know when to schedule your next clean and service, and will also let you know whether your DIY cleaning is getting the job done.
But maybe you're finding that, even with regular cleaning, your kitchen exhaust hood still isn't up to standard. In that case, you'll need to hire a professional canopy cleaning company to do the dirty work for you.
Make Canopy Cleaning a Priority in Your Commercial Kitchen
Canopy cleaning isn't just important for food safety; it can help to prevent or minimise fire hazards, too. It cleans your air, cools your kitchen, and sucks up grease, so give your canopy some love with regular cleaning and maintenance. But for the best cleaning capacity and safest kitchens, you'll want to call in the experts.
Maybe you're looking for commercial kitchen canopy cleaners in Melbourne. Or perhaps you're after commercial cleaning in Sydney and sanitisation services.
Whatever your commercial kitchen cleaning needs, Lotus Commercial is here to help. Contact us for a quote today.