Published on 2022-03-22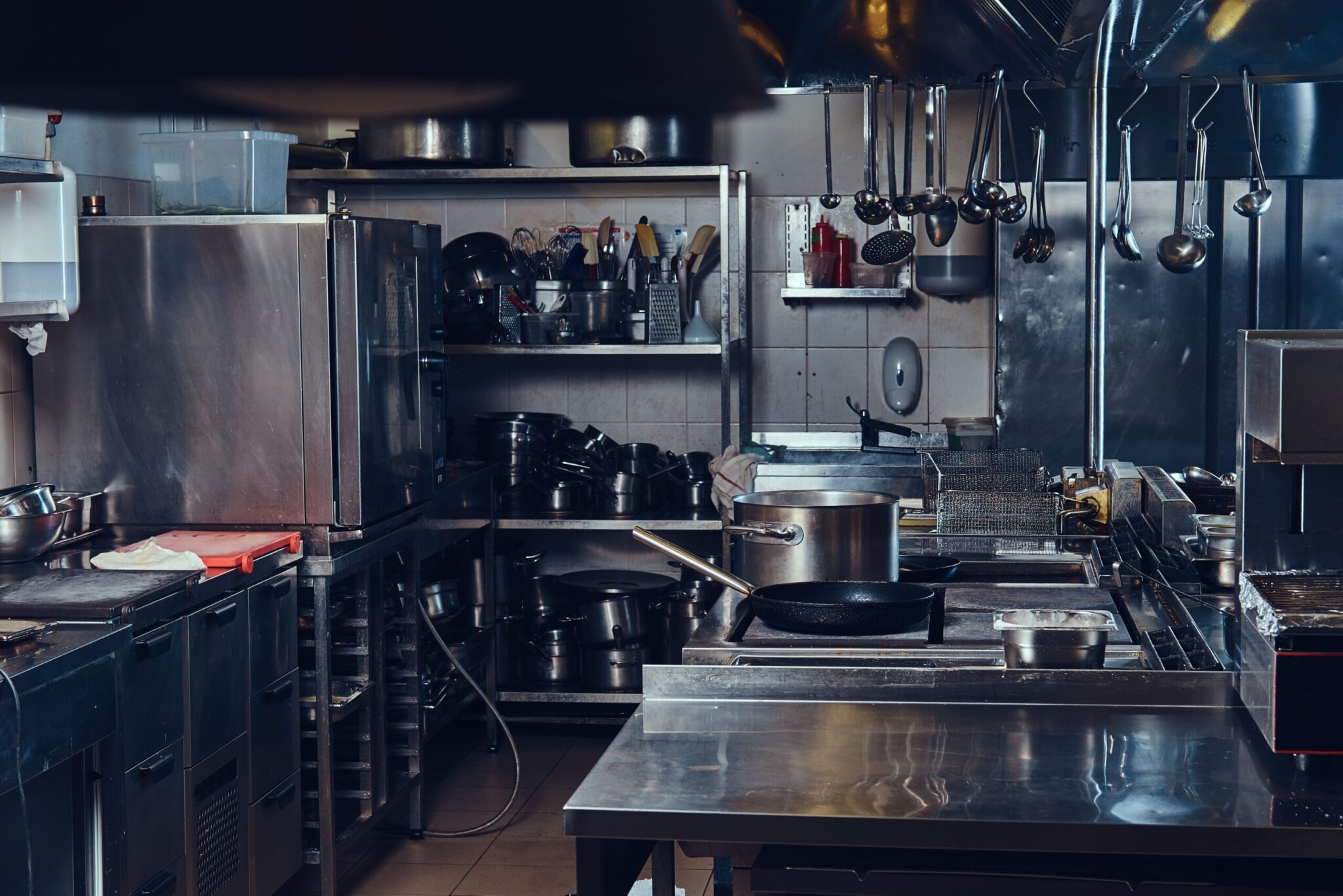 There isn't a one-time solution to commercial kitchen cleaning. It's an ongoing process that requires various procedures to be performed at certain intervals. It's important for regulatory compliance as well as health and safety of the kitchen staff and clients.
The best overarching cleaning strategy is one that involves both kitchen staff efforts and commercial cleaning services. In this blog post, you'll find out how to take care of your kitchen's cleaning needs in the best possible way. 
Everyday Commercial Kitchen Cleaning 
It's true that commercial service providers are better trained for cleaning than kitchen staff, but their expertise isn't always necessary. Cleaning done throughout the shift and after the kitchen closes for the day is an indispensable element of an effective cleaning strategy. There are certain things that need to be done during opening hours. To cater for customers with allergies, you should remember to use separate utensils to avoid cross-contamination. The grill should also be brushed between changing foods to avoid, for instance, meat getting into a vegetarian meal or simply flavours mixing.  
Everyday tasks that are needed include disinfection and cleaning of surfaces and equipment. After washing metal elements, they should be dried properly to avoid corrosion. The general guidelines are such that you should leave the kitchen ready for the next day's work. 
Weekly Cleaning Needs
Commercial kitchens are busy places throughout the week so it's difficult to find time for more than the minimum. This makes the need for once per week cleaning activities even more acute. During this process, your staff should go out of their way to clean things they've used but that don't seem to require everyday cleaning, such as underneath surfaces. Remember to also set up other maintenance tasks for your weekly schedule, such as a review of your utensils, including knife sharpening. 
Lotus Commercial can advise you on how to clean your kitchen in between one and another commercial kitchen deep cleaning with us. We can only do so much when we come to you. You can be sure that the kitchen will be spotless and safe after our visit, but it's up to the kitchen staff to keep it that way before we see you again. 
Monthly Commercial Kitchen Cleaning Requirements
There are also things that should be done in your kitchen at more or less monthly intervals. A day or two of a delay won't make a difference here, but remember to encourage your staff to do it. It's very important not to forget about them, as there can be serious consequences of such negligence. 
Monthly tasks are mostly focused on grease build-ups in places that aren't so easy to reach. Of course, Lotus Commercial will take care of kitchen canopy cleaning for you, but there are other places where pollutants accumulate. Your staff's monthly effort greatly assists with fire prevention. 
This is also the time to clean your freezers and fridges. You should review your products more often than that to check their freshness. The emptying and cleaning is just an additional step to avoid bacteria growth, mould issues and heavy frosting. You should also empty and clean the storage to avoid attracting pests. 
Other things to remember during a monthly kitchen cleaning effort is a review of equipment and utensils. Don't wait until something breaks, as this can cause major interruptions in the kitchen's operations. Monthly evaluations can help you spot potential issues and prevent incidents. 
Things to Do During the Year
It's time for Lotus Commercial! We service most kitchens a few times a year, but the frequency is dependent on how often the kitchen is used and the type of food being cooked in the kitchen. You might need to see our commercial kitchen cleaning specialists more than twice a year, because certain parts of your kitchen can't be cleaned thoroughly by your staff. Hard to reach surfaces, exhaust hoods as well as delicate elements are better off in the hands of professionals, who follow a predefined protocol. 
We'll also check on your equipment to see whether there's filter exchange required. We can focus more on specific areas, such as providing you with cool room cleaning. Most importantly, as a HACCP certified business, we know everything about food safety. We will communicate any concerns to you.

You'll be provided with proof of cleaning for your record. Thanks to our efforts in degreasing and cleaning, your fire prevention will be up to scratch. Nonetheless, accidents happen and should you need to prove your compliance to your insurer, you're covered. 
We will also talk to you, if we think that your kitchen could benefit from a more frequent commercial cleaning schedule. For extremely busy kitchens, it may be recommendable. You may also want to make use of our filter sales services, if you use many filters then buying in bulk would be advisable. 
Other Considerations
Cleaning is important, but on its own it won't save your kitchen from a fire. Remember to train your staff properly. It's also necessary to have all fire prevention tools, such as fire extinguishers, in good condition.

Your kitchen equipment may also need maintenance that is outside our expertise. Make sure that the right technicians inspect your kitchen devices. If there's any doubt, always call specialists to assist you. 
Commercial Cleaning with Lotus Commercial
By choosing Lotus Commercial, you're selecting a company trusted by kitchen owners from various industries. During over 30 years of experience, we have perfected our methods. We always strive to stay up-to-date with the developments in the cleaning sector, as well as regulatory changes. 
Apart from HACCP certification, we have other significant policies we respect when providing our services. Your kitchen's health and safety is paramount, but it's also crucial for us to keep the environment in mind. Our cleaning services are as eco-friendly as possible. Last but not least, we're committed to quality and value your privacy. 
If you're looking for cleaning in Sydney, Melbourne, Brisbane, Cairns or Townsville, give us a shout!