Published on 2022-04-21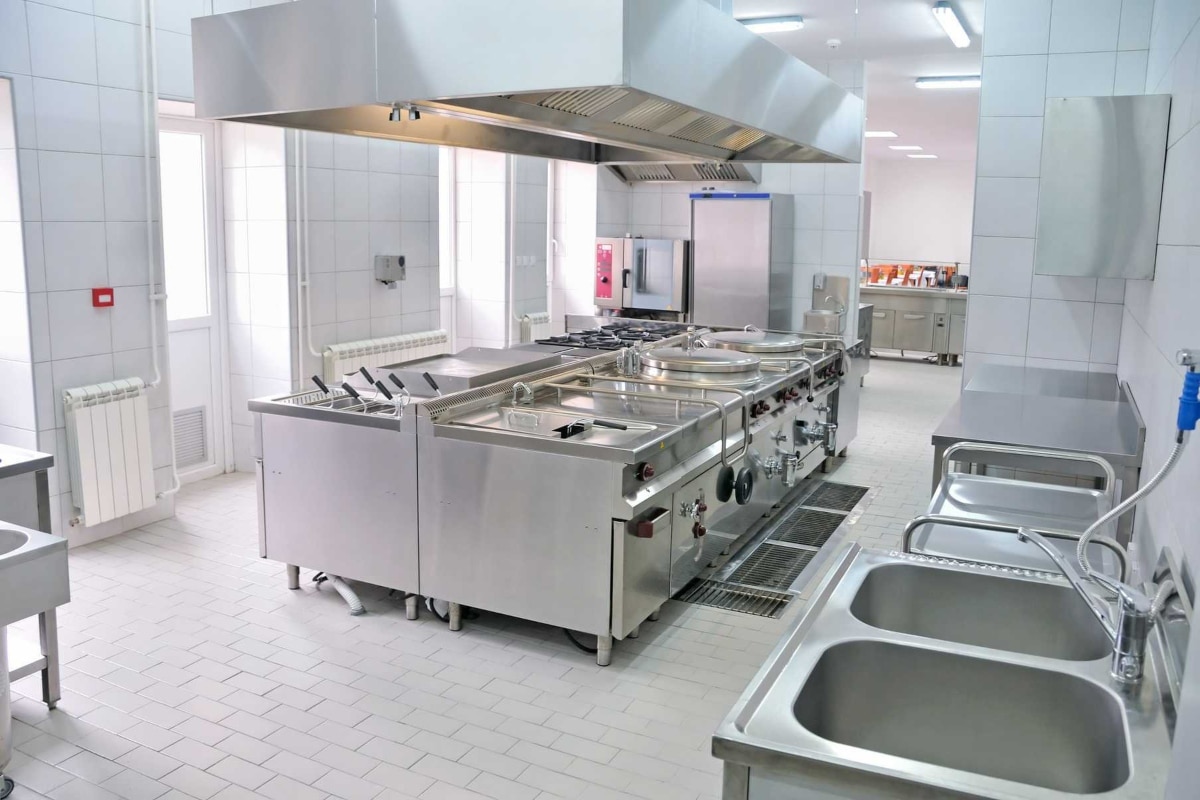 Did you know that an estimated 5.4 Million Australians become ill every year? 1.2 million of those people will visit doctors, and 120 die due to foodborne illnesses? This is why it's critical to select a suitable work surface for food prep areas in commercial kitchens. Stainless steel surfaces help to avoid the spread and growth of harmful bacteria. 
Stainless steel is ideally suitable for catering and food processing because it is easy to clean, sterile, and non-porous. 
Stainless steel has typically been the favoured preference in any self-respecting restaurant kitchen. So, let's take an in-depth look at why commercial kitchens use it.
Stainless Steel What Is It?
Stainless steel is an alloy of iron with a minimum chromium content of 10.5 per cent, which gives it a high polish with resistance to tarnishing.
Stainless steel has a melting point of approximately 2,600 degrees Celsius. Therefore, stainless steel is an excellent choice for catering equipment such as:
Industrial kitchen ovens

Equipment for cooking

Counters and tables
Stainless steel has cryogenic toughness. Cryogenic strength increases metals density, making it more robust and more solid. This significantly improves metal products and materials' quality, longevity, and wear resistance.
Which Stainless Steel Is Used in the Catering World? 
Even though stainless steel is labelled "food safe" doesn't imply it's ideal for your catering business or restaurant. There are numerous types of grades of stainless steel, each with its composition and properties. The two most common grades used for food prep are 304 and 316L stainless steel. 
304 Stainless Steel
304 stainless steel, which includes 8% nickel and 18% chromium, is the most commonly used stainless steel. It accounts for more than half of all stainless steel production. 304, which is less expensive than 316L, is a cost-effective and practical choice for most applications. 
Most oxidising acids are not corrosive to 304. Because of its durability, it is simple to sanitise and thus suitable for a wide range of commercial kitchen applications. It also has excellent shaping and metalwork properties, enabling it to be formed into a wide range of shapes. 
304 stainless steel is commonly used in the following applications:
Fridge and Freezers

Commercial stoves

Sinks and worktops

Dishwashing machines
304 stainless steel resists corrosion from acids in meats, fruits, and liquids such as vinegar or milk. However, one of 304's major flaws is its corrosiveness to chloride solutions or saline conditions like saltwater. 
316L Stainless Steel
316L stainless steel is the second most common. It has a remarkably similar configuration to 304. 316L stainless steel is composed of:
2% molybdenum

10% nickel

16% chromium
Molybdenum, an extra element, is essential for increased corrosion resistance. Molybdenum improves the metal's resistance to pitting. Pitting is a type of corrosion that results in tiny holes in the metal.
Molybdenum also increases its strength and toughness with high temperatures. 
316L is more commonly used in high salinity environments, such as coastal regions. However, 316L stainless steel is generally more expensive than 304 stainless steel. The additional expense can be justified by 316L's increased corrosion resistance. This allows it to last much longer than 304 stainless steel.
Why Use Stainless Steel in Commercial Kitchens?
Stainless steel equipment provides numerous benefits to the food industry. Many people believe that having a commercial kitchen outfitted with stainless steel equipment is the best option. Let's take a look at some of the advantages:
Carbon Footprint
Aside from outlasting many similar materials in terms of longevity, stainless steel is also made with a high ratio of recycled steel. This make stainless steel very environmentally friendly. As an added bonus, stainless steel is fully recyclable at the end of its long life.
Sustainability benefits both the environment and humanity. People in the catering sector want to know that their equipment contributes to creating a more sustainable environment. Stainless steel will help them reduce their carbon footprint. 
There Is a Protective Layer on Stainless Steel
The protection provided by an invisible, microscopic thin, and insoluble oxide layer is the key to stainless steel's resistance to corrosion and long life.
By decreasing corrosion to a portion of what it would be otherwise, this passive layer reduces the need for paint or other protective coatings. The wonderful thing about the passive layer is that it self-heals if it is damaged, like a surface scratch. Thus, stainless steel may last indefinitely under the appropriate conditions.
Stainless Steel Is Hygienic
Stainless steel is ideal for applications requiring sanitary conditions, strict hygiene standards, cleanability, and long life. It can withstand routine daily cleaning, time after time, and even rigorous cleaning and steam disinfection at 100 °C.
Moreover, stainless steel has a smooth, non-porous surface that is easy to clean because it restricts acidic liquids such as tomato juice or lemon juice from penetrating the material. 
Stainless Steel Decor
Designers have creative options available with the many different finishes available in stainless steel. Designers looking for more exciting and exciting options can choose from highly polished, patterned, and brushed finishes.
It's Easier to Work With Stainless Steel
When it comes to production operations, stainless steel acts very differently from conventional carbon steel. However, simply adhering to a few simple guidelines becomes a breeze to work with and manage.
Stainless Steel Shines Above the Rest
The most common material for commercial kitchens and kitchen cleaning is clearly stainless steel. It is also the most sustainable product due to its lifespan and usage of recovered scrap material.
Due to stainless steel's strength and resistance to corrosion, it can be used indefinitely in some applications. As a result, when the total life-cycle costs of stainless steel are compared to the costs of competing materials, stainless steel comes up trumps as the most cost-effective option.
Do you have a commercial kitchen that needs cleaning? Then, why not contact us? We offer high-quality, environmentally friendly office and commercial cleaning services, and more.