Published on 2016-11-03
Since launching in 2010, STREAT has helped more than 520 young people from disadvantaged backgrounds gain skills and training, giving them the chance of a productive and fulfilling life. So what's behind the growth of STREAT, from a small food cart in Federation Square to five café sites across Melbourne, including the new 80-seat Cromwell St site, which also houses an artisan bakery, coffee roastery, training spaces and much more. Read on to find out what led to the creation of this hugely successful social enterprise.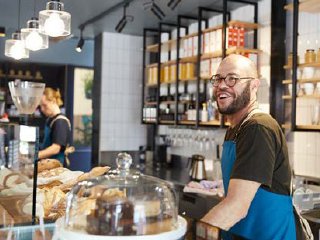 STREAT'S co-founder and CEO, Rebecca Scott came up with the idea for the social enterprise after working at KOTO (Know One, Teach One) in Vietnam, a program that was set up in the late 1990s by a Vietnamese-Australian to help Vietnamese street kids escape the cycle of impoverishment.
Alongside her partner Dr Kate Barelle, Rebecca worked at KOTO for two years. They began to think about how they could translate the experience to helping disadvantaged youth in Australia. And so the idea of STREAT was born.
Settling on Melbourne as a base for the program because they felt the city provided better access to philanthropic donations, STREAT began in 2010 with a food & coffee cart in Federation Square staffed by nine formerly homeless kids, Rebecca and two other STREAT employees.
The plan was to extend the carts across the city, giving disadvantaged young people an opportunity to gain work experience and training.
While the original plan fell through due to Melbourne's famously erratic weather, in 2011 STREAT moved their coffee cart into Melbourne Central. And, from that point, STREAT never looked back, growing to four café sites and a coffee roastery and helping up to 150 at-risk young people a year with training, employment, housing and social and psychological support.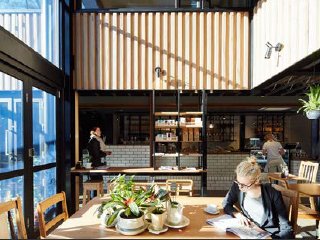 This year, the number of STREAT sites has grown to five, with the transformation of 66 Cromwell Street in Collingwood into a café, bakery, coffee roastery, catering and functions business, head office, hospitality training centre and community space. The launch of Cromwell St sees STREAT on track to provide vital assistance to over 300 homeless and disadvantaged young people a year.
In 2013, the historic building was purchased for STREAT by local businessman and philanthropist Geoff Harris, Co-founder of Flight Centre, in order to give the organisation a hub from which to expand its capacity. Following a comprehensive make-over, Cromwell STREAT opened its doors to the public in September and has already become a hive of activity and a favourite eating and drinking spot for locals and visitors alike.
In an article in Broadsheet about the remarkable success of Cromwell STREAT, Rebecca Scott said, "Every day I walk in here and pinch myself … Just to see the phenomenal diversity of people coming in the door as customers. As much as we exist to stop youth homelessness and disadvantage, the engine of our whole enterprise is good food and coffee."
It will be fascinating to watch the growth of STREAT from Cromwell St and beyond (by 2022 they aim to be helping 1095 young people every year) and hear about the achievements of those who have passed through its doors. You can follow the STREAT story on its website or via the Facebook page. Or see it for yourself by treating yourself to lunch and a coffee at a STREAT café.
"Lotus Commercial is proud to be providing pro bono kitchen filter exchange and kitchen canopy, exhaust and fan cleaning to Cromwell STREAT, in support of STREAT's vitally important work with homeless and disadvantaged youth."
You can find out more about STREAT via the links below:
http://www.theaustralian.com.au/business/companies/street-smart/news-story/cbd9e4eb3930dd302261afa015f01cd2
https://www.broadsheet.com.au/melbourne/food-and-drink/article/streat-opens-huge-dining-hub-collingwood
https://www.timeout.com/melbourne/restaurants/cromwell-streat
*Photos by Alice Hutchinson.
If you've enjoyed this blog article and would like to find others similar to it, you can do so by clicking on the link below.
Read more articles from Lotus Commercial.