Published on 2015-09-15
Founders of American company EcoThermal Filters claim to have invented the next big thing in kitchen filter systems. An environmentally-friendly kitchen filter that recycles heat, while reducing energy wastage and running costs.
EcoThermal Filter System
The new EcoThermal Filter System works by capturing heat from the cook line, and then using it to pre-heat kitchen water.
During every day kitchen use, hot air rises from the cook line. Whereas traditional filters expel this hot air from the kitchen, EcoThermal Filters instead capture it using a series of heat exchangers, thereby creating a heat source.
Cold water is flowed through the filter and exchangers, and in doing so that water is heated to 52 degrees celsius.
The now warmed water is then sent into the business' hot water tank, filling it with 'pre-heated' water.
This process of pre-heating the hot water tank's water, lowers the amount of gas that is needed to bring the tank's contents to a desired temperature.
Benefits of new eco-friendly kitchen filters
The benefits of these new filters are two-fold.
One, because less gas/energy is needed to heat the now pre-heated water, less greenhouse gas emissions are created. EcoThermal say, that once installed a restaurant can reduce their carbon dioxide output by 19 metric tons (on average).
Two, because the amount of gas required in the heating of the water is reduced, so too is the business' gas bill and heating costs. EcoThermal claims that these filters can save businesses up to $6,000 ($8,220AU) annually.
And there is no difference to the water outputted. It can be used completely as per normal, for food prep, cooking and cleaning.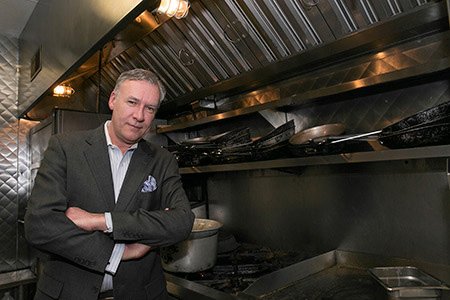 Industry recognition
EcoThermal Filters have already received a number of notable industry accolades.
Including endorsements from Kerry Miller, Director of Membership Services for the Massachusetts Restaurant Association, and Michael Oshman, CEO and Founder of the Green Restaurant Association.
In a statement, Mr. Oshman said: "It's not often that such an innovative product comes to the marketplace, one that has such environmental impacts."
Awareness of EcoThermal Filters has been bolstered in recent months, partly because of support from the City of Boston, which has encouraged the uptake of the new filters in the Boston area.
Steven Rumpler, Senior Project Manager for the City of Boston's Office of Business Development said: "Encouraging kitchen operators to adopt the EcoThermal Filter System is another way in which we can assist Boston restaurateurs, and help further reduce our City's carbon footprint."
Practivism: practicality + activism
EcoThermal Filters were developed by US Energy company Next Step Living®. CEO and Founder Geoff Chapin describes Next Step Living®'s products and philosophy as 'practivism', practicality plus activism. They are produced by Blissfield Manufacturing Company in Michigan in the United States.
Presently there are no plans to make EcoThermal Filters available in Australia however Geoff Chapin in a recent interview expressed his desire to expand globally, whether directly or indirectly.