Published on 2015-09-29
Understanding the equipment which your business uses everyday is vital in defending your business, staff and customers from commercial kitchen fires.
For it is knowing what this equipment does and the importance of ensuring effective function that is the first step in creating a safer kitchen and operation.
Explaining Kitchen Exhaust System
Below is a simple diagram of a typical kitchen exhaust system, the main components it is made up of, and where each piece of the system is located.
Following the diagram is a brief description of each component. Take some time to read through and familiarise yourself with each part.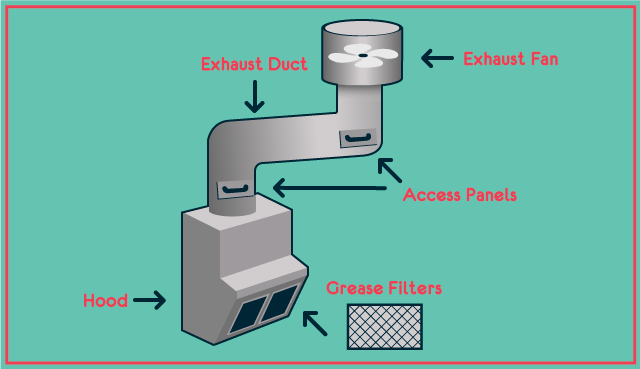 Hood
Your kitchen's hood (exhaust hood, canopy hood, range hood or extractor hood) is placed above your grill or cooktop. The exhaust fan above extracts grease, smoke, odours, fumes and steam, which rise from the cooktop.
Grease Filters
As air rises from the cooktop and into your kitchen's canopy, it passes through your filters, where upon cooking grease is extracted. To avoid build-ups of grease, your filters should be exchanged regularly.
Access Panels
Access panels are important to enable access to your exhaust duct for cleaning. These are either installed at the time your system was installed or where possible can be installed by your cleaning company to improve access for cleaning.
Exhaust Ducts
Your exhaust ducts connect your kitchen's hoods to the exhaust fan. Air, upon being absorbed through the hood and grease filters, is sent through the exhaust ducts and out via the fan.
Exhaust Fan
Your exhaust fan facilitates the removal of air, fumes and particulates from your commercial kitchen.
While each component serves a different function, all need to be in working order for the safe operation of your commercial kitchen.