Published on 2016-03-01
When it comes to kitchen exhaust system cleaning, many business owners are still in the dark about their responsibilities.
So for this week's blog we're going to take a look at the fundamentals of commercial kitchen exhaust cleaning. As well as what business owners can do to ensure their adherence to best practice and Australian standards.
1. The importance of exhaust system cleaning
The consequences of unmaintained exhaust systems can be devastating.
The most obvious danger is fire, as canopies clogged with grease and grime can be ignited quickly and without warning. A single spark is all it takes to start a fire and once aflame, that fire can rush through grease-laden ducting fast.
However, what many business owners don't know, is that insurance claims can be rejected because of unmaintained exhaust systems. Additionally unclean systems can breach health and safety guidelines, resulting in fines or even business closures.
2. What is included in an exhaust system clean 
Your full exhaust system clean should include a number of elements.
Five things that absolutely must be included in your exhaust system clean:
A complete scrape clean of your system (from top to bottom)
Detail cleaning of all ducts and ducting systems
A complete clean-out of your ventilation systems
Cleaning of fans and other appurtenances
Filter maintenance and exchange
On completion of work, your commercial kitchen cleaning company should provide you with a written document, which details the service provided.
This report can be filed away and presented in case of standards inspections or insurance claims.
3. How often should exhaust systems be cleaned
All commercial kitchen exhaust systems need to be cleaned on a regular basis. Exactly how often though, will depend on a variety of factors; primarily what type of cooking is being undertaken and for how long each day.
Here is our recommended cleaning schedule:
| | | |
| --- | --- | --- |
| Type of kitchen | Hours of use (per day) | Cleaning frequency |
| Heavy use | 12 – 16 hours | Every 3 months |
| Moderate use | 6 – 12 hours | Every 6 months |
| Light use | 2 – 6 hours | Every 12 months |
These are of course guidelines and every commercial kitchen will be different. Your kitchen's exhaust system may require more or less frequent cleaning depending on your individual
situation. For the most accurate cleaning schedule, contact us for a free assessment and quote.
4. Why you should hire a professional cleaning company
Exhaust system cleaning is a complex and potentially very dangerous job. It requires work in high places, around grease-laden surfaces, with chemical cleaners. Therefore, it is vital that it is carried out by a professional exhaust system cleaning company.
Unfortunately, every year, workplace accidents occur as a result of employees attempting to clean kitchen canopies and the like themselves. Some of these injuries can be very serious and so too can be the consequences for business owners.
Additionally, If your cleaning is not being carried out by trained and experienced professionals, then it may not be being done properly. And as stated above, fire, breach of standards and rejected insurance claims can all come about because of improperly cleaned exhaust systems.
"All commercial kitchen exhaust systems need to be cleaned on a regular basis."
5. What access is required for cleaning
In order for your exhaust, canopy and ducting to be cleaned, your chosen commercial cleaning company will need sufficient access to your systems. This is made possible by various access panels. However, entry to your roofing may also be required.
If access panels have not already been installed, then they may have to be implemented before cleaning can take place. This will usually incur a one-off installation cost.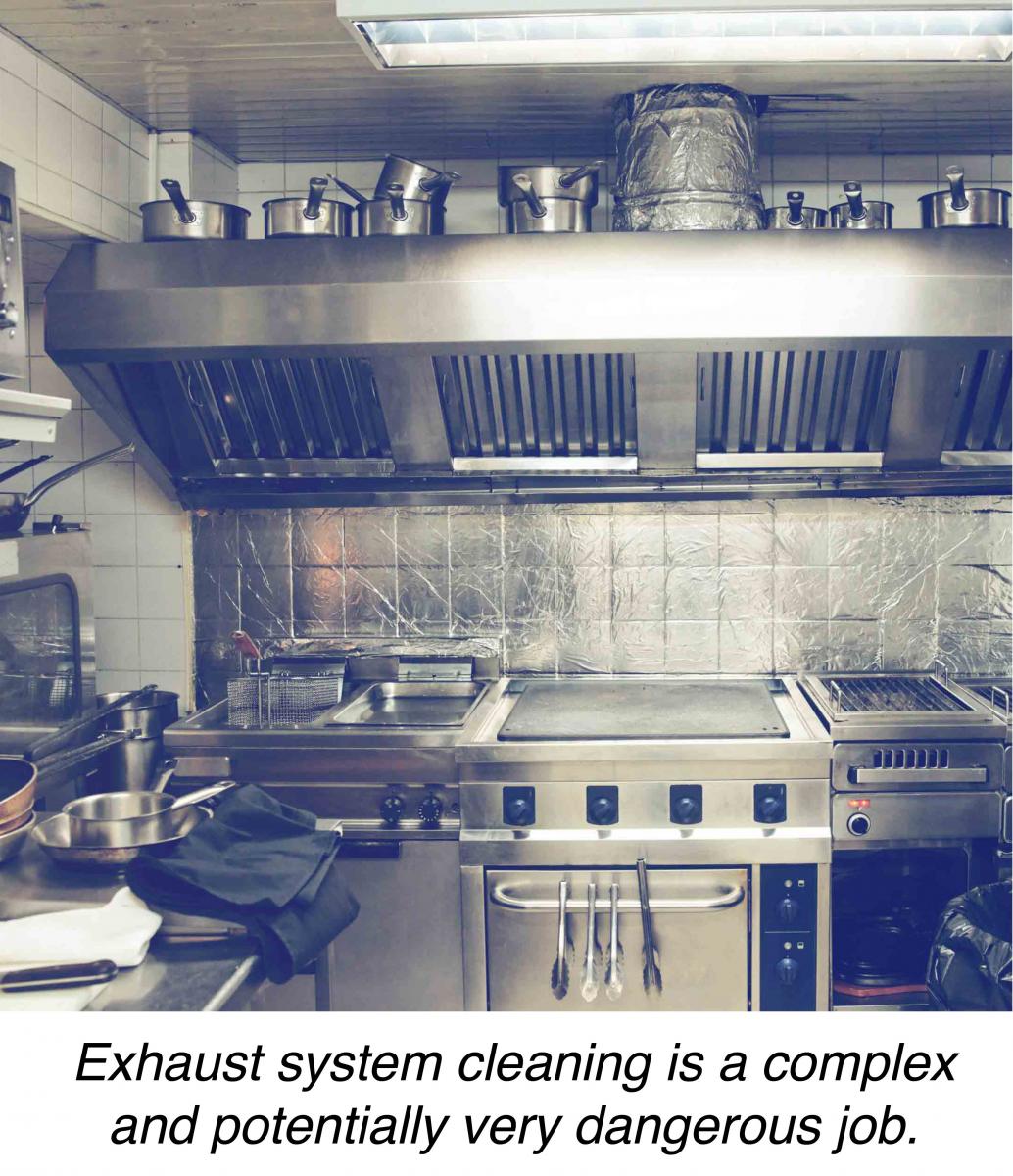 6. What you should look for in a kitchen cleaning company
Your commercial cleaning company should be well-versed in Australian standards and your state's rules and regulations surrounding exhaust cleaning.
They should also have proven experience working with Australian businesses and industry.
If you're unsure about a company, ask for the following:
Written testimonials from satisfied clients
Proof of membership to the International Kitchen Exhaust Cleaning Association (IKECA)
An example of the written report to be delivered on completion of cleaning.
Finding the right exhaust system cleaning company can be difficult, but once settled upon your chosen service provider should be able to deliver you years of service.
With the right help and a little know-how, ensuring the cleanliness and safety of your exhaust system can become a regular and hassle-free part of your business' operation.
If you would like more information about exhaust cleaning or if you have any queries about the services detailed in this blog article, call one of our friendly team members for a chat today.