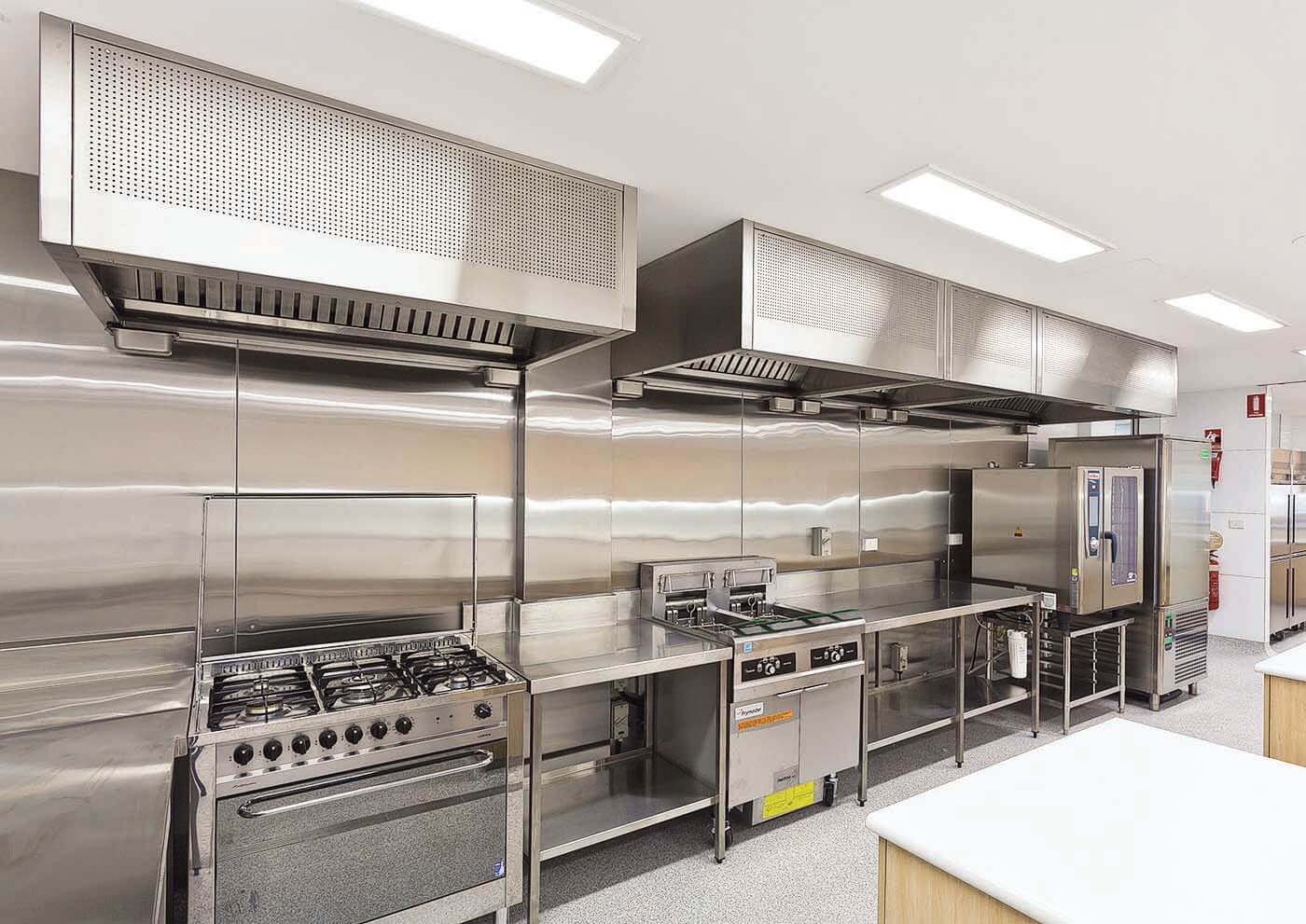 Canopy rangehoods have many benefits in a commercial kitchen. They improve air quality, minimise kitchen odour, control heat and steam, decrease everyday cleaning time and add lightning. They make cooking easier and the work environment more pleasant. At the same time, over time they accumulate grease and other pollutants.
Canopies' cleaning and maintenance is crucial to smoke and fire control. It is also one of the compliance requirements for commercial kitchens. It should be done regularly in scheduled intervals by experienced professionals.
We clean commercial kitchen canopy rangehood inside and out, removing the grime you can and cannot see. Our experienced team uses specialised equipment to remove all grease, fat, and oil build-ups, leaving your canopy rangehood clean and looking great.
Kitchen Canopy Cleaning and Maintenance
While your canopy rangehood may be clean on the outside, it is often what you can't see that is dangerous. Grease, oil, and grime deposits can all accumulate within your kitchen canopy rangehood. They may not be immediately visible.
Over time, all these things can leave traces in your canopy, compromising its effectiveness and appearance.
Fortunately, keeping your kitchen canopy rangehood performing (and looking) its best is easy, with regular maintenance and cleaning from a trusted commercial cleaning company, like Lotus Commercial.
Upon completion of the cleaning, you will be provided with a certificate detailing the service rendered. You can rest assured that your kitchen canopy rangehood is clean, safe, and at its best until the next scheduled cleaning.
Professional Canopy Rangehood Cleaning
Cleaning your commercial kitchen canopy rangehood yourself or having your staff do it is not advisable. This is because the process is potentially very dangerous and needs to be executed with special care.
Kitchen canopy rangehoods by their nature are usually placed up high, and above cook-tops and fryers. They are hard to work on, which means that cleaning done by an untrained individual is often very superficial. It can also result in costly damage to a canopy rangehood.
What's more, attempting to clean them without the proper training, equipment, and on-the-job experience can lead to injuries. They may vary from trivial to serious and include slipping, falls, and burns. You could also inadvertently breach the requirements of your insurance policy and violate the Australian standards.
That is why at Lotus Commercial we ask you to let us clean your kitchen's canopy rangehood. Our professional team will polish your canopy rangehood, inside and out, thoroughly. Our team of trained professionals knows how to do the job adhering to the safety guidelines. After our job is done your kitchen will be clean, standards compliant and most importantly, safe to use.
Contact one of our offices today! You can count on us for all your commercial kitchen canopy rangehood cleaning needs in Melbourne, Sydney, Brisbane, Cairns, Perth and Townsville. Do you need some other work done in terms of kitchen cleaning? Check out the full range of our prime kitchen cleaning services.