Our professional team are well versed in Australian standards surrounding the cleaning of commercial kitchens and will carry out all cleaning and maintenance both properly and promptly, first time, every time.
Regular kitchen exhaust system maintenance, carried out by a cleaning professional, is vital for the safe and effective operation of every commercial kitchen.
Without regular filter exchange, professional canopy rangehood and exhaust cleaning, thick fatty grease builds up, seriously impacting the performance of your kitchen's exhaust system.
Exhaust systems left alone and not maintained affect your kitchen's operating environment, increasing health and safety risks. They can lead to air pollution, breaching of Australians standards, devastating kitchen fires and rejected insurance claims.
Don't let your kitchen become a risky business, contact Lotus Commercial for professional kitchen exhaust system cleaning today.
Complete Kitchen Exhaust System Cleaning
Choose Lotus Commercial for a comprehensive exhaust system cleaning service. We do it all, so you can breathe easy, knowing that your kitchen is safe and performing at its best.
Our service includes:
A scrape clean of your system from top to bottom where accessible

Cleaning of fans, ducts and other appurtenances where accessible

Filter maintenance and exchange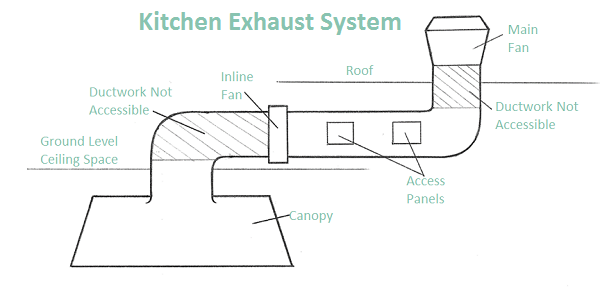 Upon completion of cleaning, you will be provided with a full written report, which details the service provided. This document can be filed and presented in case of inspections or insurance claims.
The Importance of Cleaning Exhaust Fans
When having your duct and exhaust systems professionally cleaned, it is important to ensure that your chosen cleaning company pays particular attention to your exhaust fans.
Your exhaust fans are vital for removing grease and fumes from your commercial kitchen. They facilitate the flow of contaminated air from your business, and they ensure that dust and particulates are expelled from your building.
Unmaintained exhaust fans can quickly become clogged with grease and fat build-ups. Left for long enough, these build-ups can cause fans to overheat. Should fans become damaged, expensive repairs, or even a complete replacement may be required.

READ ALSO: 6 things every business owner should know about exhaust system cleaning