Meet Us at the 2019 Fine Food Australia Exhibition in Sydney
The Fine Food Show is one of Australia's leading events in the hospitality industry for the trade.
Each year, over 1000 brands, including Lotus Filters, set up to showcase what they offer to help the hospitality industry continue to improve and grow.

We encourage all to visit the Fine Food Show!
One of the biggest benefits we see each year is that meeting leading industry suppliers face-to-face has seen customers walking away with plenty of new idea's to improve their business, whether it be a new product, equipment or service offer. 
But, the Fine Food Show is more than just finding your next supplier. You'll gain insight into solutions to business-related issues faced on a daily basis, as well as to consumer demands affecting the food industry.
You'll also be able to meet innovative brands and gain invaluable experience which you can take away and use in your business to help keep your customers coming back. 
So, come around to meet us and many other innovators in the hospitality sector, and share your experiences – be it successful or challenging!
More details about the Fine Food Show:
Location: International Convention Centre Sydney, 4 Darling Dr, Sydney NSW 2009. Get directions here.
Date and time: 
Monday, 9 September | 10:00 am – 6:00 pm

Tuesday, 10 September | 10:00 am – 6:00 pm

Wednesday, 11 September | 10:00 am – 6:00 pm

Thursday, 12 September | 10:00 am – 4:00 pm
Find our Lotus Filters team at STAND HU35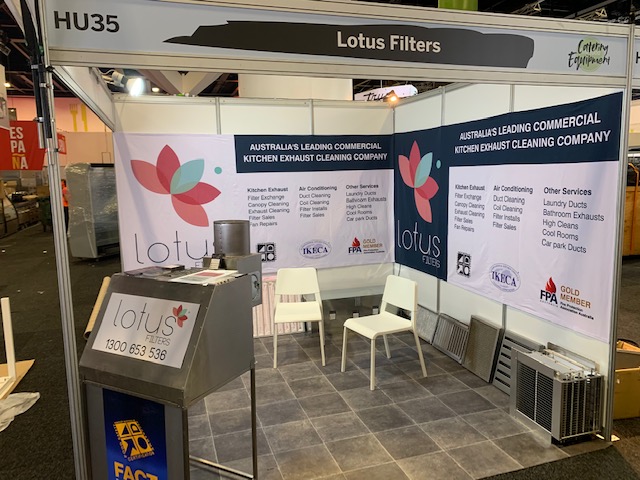 What we're exhibiting
As Australia's leading commercial kitchen exhaust cleaning company and over 30 years' experience in the hospitality industry, our Lotus Filters team will be exhibiting its top-of-the-range products and services. 
The range of products and services we'll be exhibiting include:
Kitchen exhaust filters

Commercial kitchen filter exchange

Canopy cleaning

Exhaust system cleaning

Air conditioning filters

Air conditioning duct cleaning

Kitchen duct and exhaust fan cleaning
Sectors we service include restaurants, cafes, fast food chains, catering venues, pubs, clubs and entertainment venues, hotels and casinos, hospitals and aged care facilities, schools, TAFE's and universities, office and commercial kitchens, food manufacturing facilities, supermarkets, and shopping centres.
Let us help you minimise the risks presented by your commercial kitchen exhaust system with our high-quality, reliable and cost-effective kitchen exhaust system cleaning services.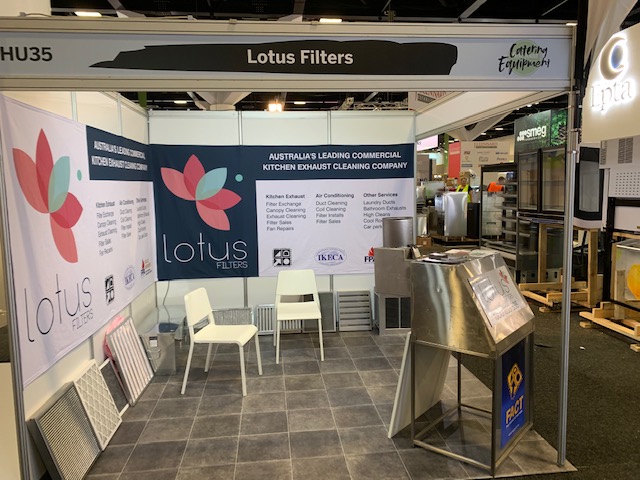 Find us at the Fine Food Show Australia this week at STAND HU35!